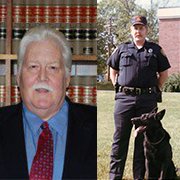 Harlan D. Mitchell is native to Limestone County, Alabama where he served at Athens Police Department as both a patrol and K-9 officer for twelve years. He received a B.S. from Athens State College and a law degree from Birmingham School of Law.
Mr. Mitchell began his compelling legal career with the law firm of Beddow, Eerben& Bowen, P.A. in Birmingham where he engaged in civil and criminal litigation and appeals, real estate transactions, and domestic relations practice.
During his time here, he participated in the representation of numerous high-profile white collar trials in federal court and many high-profile cases in both state and federal courts. He then continued his work with Mitchell & Graham, P.C. where he served as senior partner from 1997 to 2010. Since then, Mitchell has brought his legal expertise to the private sector at Harlan D. Mitchell, Legal Services LLC, where he specializes in criminal defense and family law.
With a successful track record and over 35 years of criminal law experience, Mr. Mitchell has proven to be a formidable opponent in the courtroom. If you need superior legal representation, Harlan Mitchell will fight for you.
---
Alabama State Bar Rules require the following statement: No representation is made that the quality of the legal services to be performed is greater than the quality of legal services performed by other lawyers.